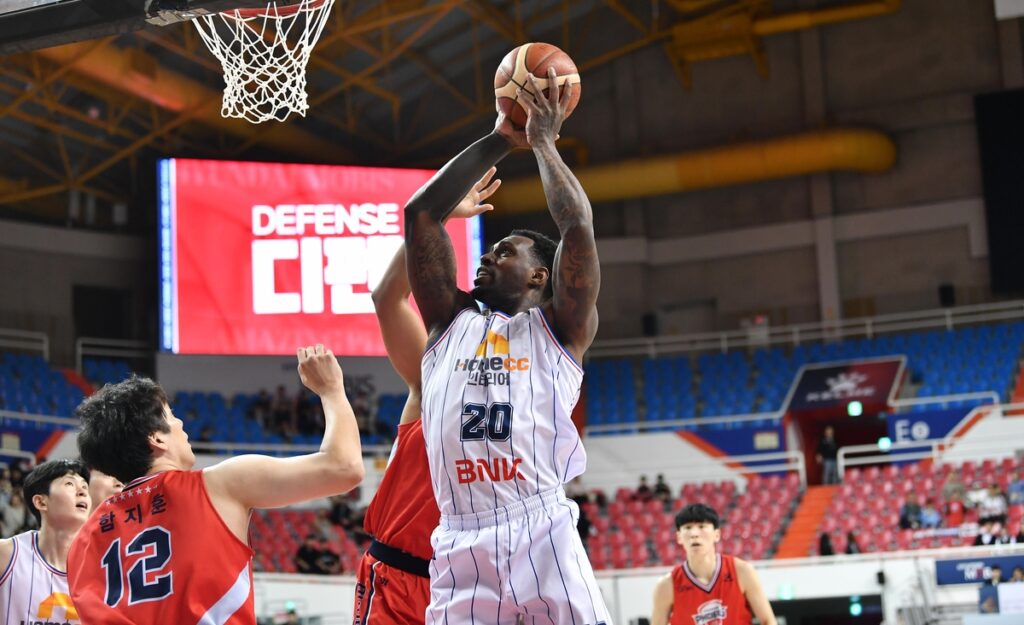 Professional basketball team Wonju DB defeated Dagu KOGAS to open the season with a five-game winning streak .DB comfortably defeated KCC 94-79 in an away game of the 2023-2024 regular season at Daegu Gymnasium on Wednesday .Extending their opening winning streak to five games, DB jumped out to an early season lead. Meanwhile, KOGAS, which fell to 1-4, dropped to the bottom of the standings alongside Goyang Sono .After leading 48-36 at halftime, DB maintained a double-digit lead the rest of the way before running into a crisis early in the fourth quarter. With just over eight minutes left in the game, Lee Sun Albano's foul and subsequent miscue sank DB's spirits, allowing KOGAS' Anthony Moss, Yang Jun-woo, and Park Bong-jin to score consecutive points to cut the deficit to 75-70.
It was Park In-woong who stepped up to the plate. After hiting two 3-pointers, Park scored another with 2:37 left in the game to extend the lead to 86-77.For DB, Dedrick Lawson led the way under the basket with 21 points and 13 rebounds. Albano (18 points), Kang Sang-jae (16 points), and Park In-woong (10 points) also contributed inside and out. For KOGAS, Shin Seung-min, who collided with teammate Park Bong-jin on a rebound in the first quarter and was knocked unconscious and taken off on a stretcher, returned to play early in the second quarter, but was unable to make a difference. Shin finished with 16 points and two steals .Busan KCC also recorded its second win of the season, defeating the Ulsan Hyundai Mobis (4-2) 91-79 on the road.
KCC, which was short-handed due to the continued absence of signature forward Choi Jun-yong, played center Ragan-ah longer than usual among its foreign players. Against Hyundai Mobis' foreign player Gage Prim, Ragan-ah played well on offense, which made coach Chang-jin Jeon smile .He finished with 20 points and 12 rebounds in 16 minutes, including 13 points and seven rebounds in the third quarter alone to help KCC pull away .After forward Kebe Aluma took the court in place of Prim, who had accumulated fouls while defending Lagana, KCC's Alize DeShawn Johnson took over the baton from Lagana .Johnson exploded for 19 points in the fourth quarter alone to pull away from Hyundai Mobis. Johnson finished with a combined 37 points and 17 rebounds.
The Hyundai Mobis forward lineup of Aluma (17 points), Kim Kook-chan (15 points), and Kim Jun-il (12 points) did their job, but the lack of depth in the guard lineup, which lost Signeon-jin to a knee injury, was painful. No one else scored in double digits, 슬롯게이밍 including Kim Tae-wan (5 points), Kim Ji-wan, and Lee Woo-seok (4+).